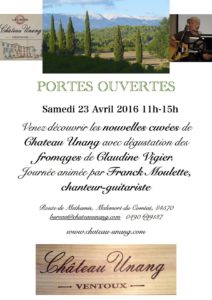 We have got an Open House at the Cave this weekend and everyone is welcome to join us.  The main event happens between 11h and 15h.  There are 5 new cuvées to try – Chateau Unang Rouge 2014, Chateau Unang Rosé 2015, Chateau Unang Blanc 2015, Chateau Unang Cuvée Adeline 2015 and Chateau Unang La Croix 2013.
To add to this taste sensation we will be serving a different cheese to compliment each wine and there will be music, the domaine looking its best in spring's brightest green and a relaxed atmosphere – can you think of a  better place you need to be this saturday lunchtime?
No need to reserve, whether you are a regular client or want to try for the first time – just come along and join us between 11h and 15h this saturday 23rd April.