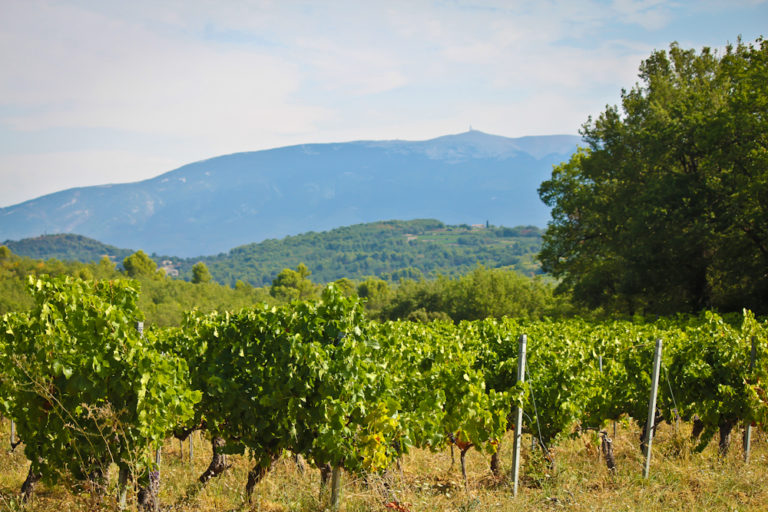 Unang's vineyards all grow on site, facing east and south between 220 and 320 meters above sea level, and are completely surrounded by forest. It's cooler here than in many other parts of the Ventoux appellation, and certainly cooler than the Rhône Valley floor to the west.
Unang is an isolated, self-contained domaine with, interestingly enough, its own geological category: les sables d'Unang. This refers to a particular type of sandy soil that lies overtop limestone. Apart from Unang's hillside, pockets of the sands of Unang are also found in the Gigondas AOC.
The Giant of Provence, Mount Ventoux, stands guard to the north, its bald dome of white limestone lending it all the gravitas a guardian needs. UNESCO recognized the mountain as a World Heritage Site in 1990.
When James and Joanna King bought Unang in 2001, there were twenty hectares of vines in various parcels up and down the hillside, and in varying degrees of health. Six hectares of poorly sited and/or diseased vines were torn out, and a new cellar was put in. In 2003, James slowly began to replant, and he plans to grow to eighteen hectares of vines, or a little more than forty-four acres. The white varieties grow farthest down the hillside in the coolest zone, while the reds occupy the mid and upper slopes. What James likes in wine is elegance and depth, and his site enables him to make such wines par excellence. These are high-altitude wines of freshness, vigor, and minerality.
All grapes are hand-harvested at Unang, and the vineyard is now certified organic, the white since 2012 and the red and rose since 2013.
Philosophy
As owners, we are committed to Chateau Unang as a family enterprise with an emphasis on quality and care – in terms of our vineyards, wine and the wider environment. Close, personal involvement with the creation and development of our wines ensures the highest production standards and gives our wine a distinctive feel.
The essence of our approach to our work in both the vineyards and the cave is simplicity and balance – achieved through the guarded use of technology to complement the time-honoured, and tested methods.
We are working towards longer-term goals with a commitment to continued experimentation to develop and bring out the full qualities of our terroir, vines, grapes and wines.