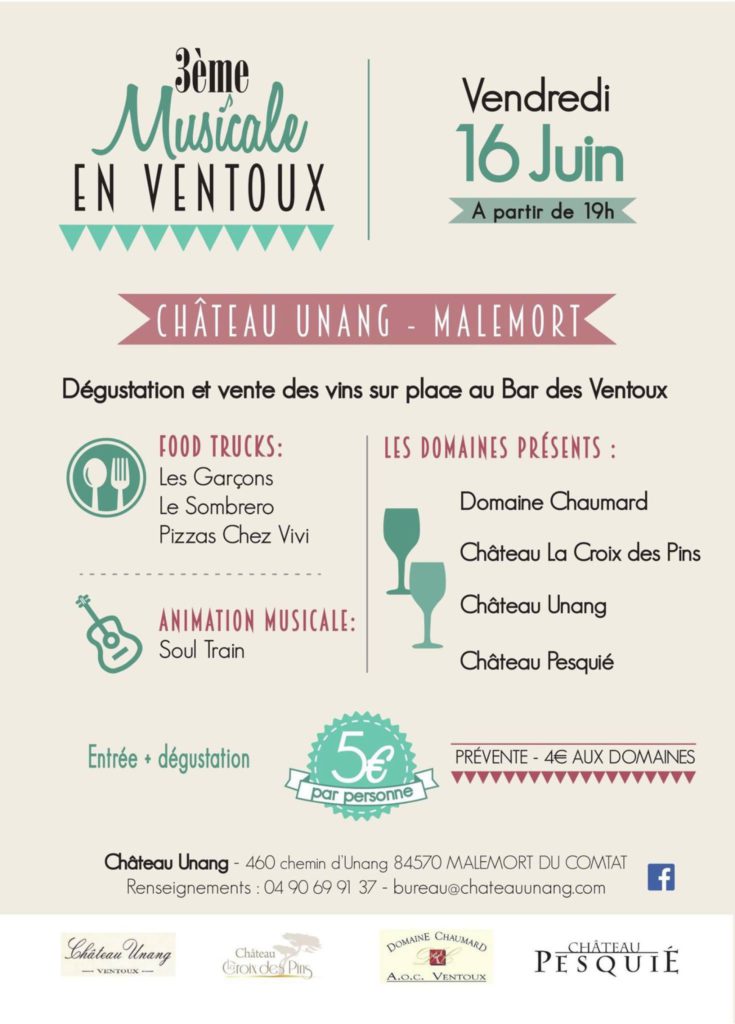 This year we are doing two musical evenings.
Our regular wine, cheese and entertainment evening at the Chateau will be on the 12th July – with the Duo Alcor with Cordelia Palm et Aliénor Girard-Guigas – Violin et Harpe (Cordélia PALM, violoniste super-soliste de l'Orchestre de Région Avignon-Provence (diplômée de la Julliard School de New-York), et Aliénor GIRARD-GUIGAS, harpiste (diplômée mention TB du CNSM de Lyon).  More details on this in the next news letter.
And also this fun evening on friday the 16th June where we have teamed up with three well known local wine domaines.  From 7pm – in front of the cave here at Chateau Unang, you can taste the wine from each domaine, chose your supper from three food trucks – choose the glass or bottle of wine from the domaine of your choice and settle down in the evening sunshine and listen to Soul Train an excellent band that plays and sings in both english and french in the beautiful surroundings of Unang.  There will be a draw with a chance to win a magnum of wine each hour.
Only 5 euros entrance on the night, and 4 euros if you manage to come to the domaine before the big night to get your tickets.
Do get in touch if you require any further information about the event, which was very successful and busy last year at Chateau Pesquie, and we look forward to having a wonderful time with you here at Chateau Unang this year on the 16th June 2017.