Harvest & Season Notes 2018 
"What happens when the Mistral goes AWOL"
During the previous two vintages I have been lamenting the lack of rainfall in the Vaucluse, both all year but in particular during the growing season. This one was different.  It had remained pretty dry to the end of 2017, which was a little worrying, with only 465mm of rain at Unang during the year being a record low for us since we've been here (the average being 750mm since 2003). After a reasonably wet start to 2018, when the aquifers had managed to squirrel away some reserves, we ended up with 462mm of rainfall by the end of May – the wet winter gave way to a wet spring.
This made Provence look particularly verdant right up to harvest time. While much the north of Europe looked like Australia with parched ground and crops commonplace. The plants here, and nature more widely, seemed to be enjoying these higher levels of humidity. Insects were more abundant.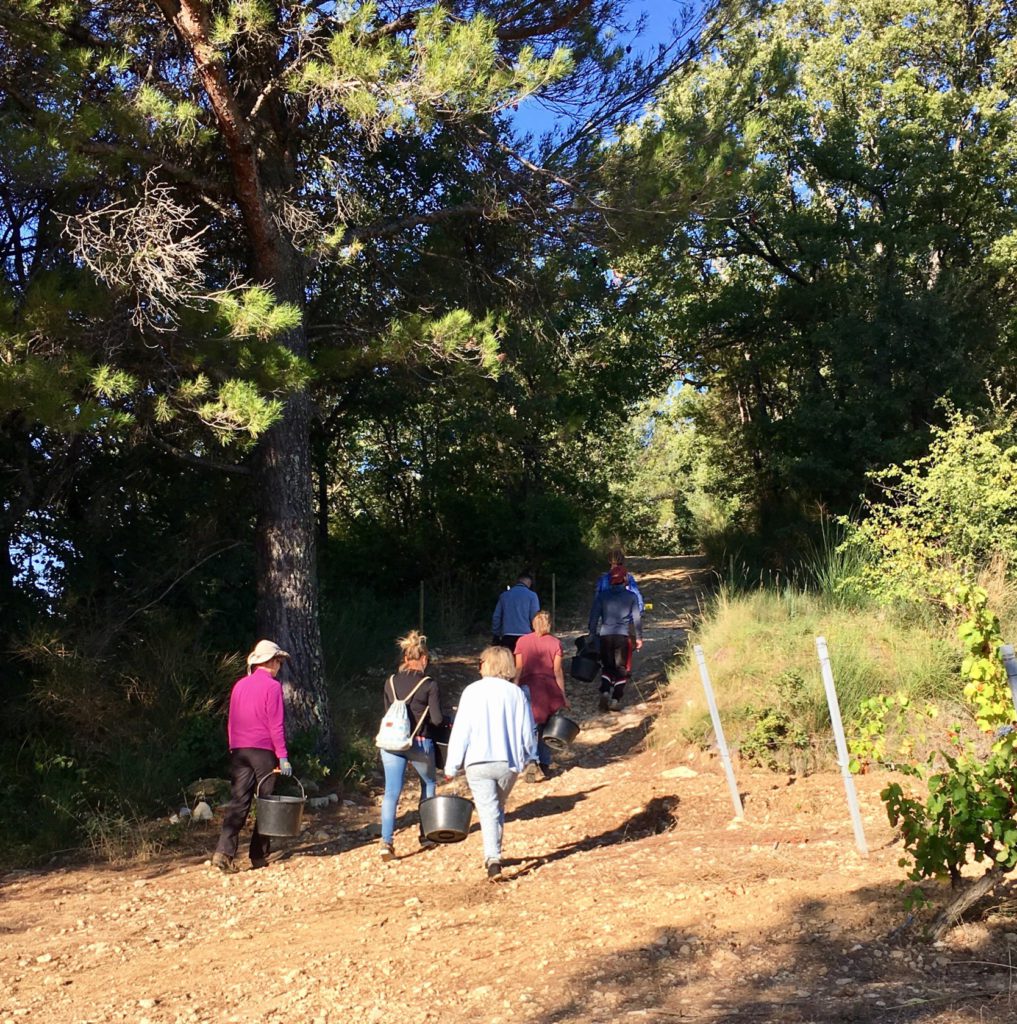 But prolonged rain kept the ground temperatures lower and meant fewer sunshine hours, so a slow and uneven start to the growing season, even to flowering. The potential flowers (which then turn to grapes) on the Grenache looked so impressive that I recall thinking: "if we lose a little to shatter (coulure) this year that will be fine as the bunches are massive."
But humidity brings with it disease pressure, and with the wet April and then May the mildew pressure was ramping up as the temperatures slowly rose. Usually the Mistral wind chases away the clouds and rain on a regular basis, and its presence confirms Carpentras as one of the towns in France with the highest number of sunshine hours. This year it didn't appear until well into June and it is not clear why that was (suggestions have been that it was disrupted due to the Jetstream being further to the north in 2018). It was much missed.
So wet with warmth during the first half of June (from 28.4.18 to 12.5.18), we had 11 days of rain in 16 days. This rain came in storms (sometimes more than 20mm) and many grape-growing areas suffered with hail, both then and later in the season. Luckily, we took only one glancing blow early on, others faced multiple and devastating falls.
Being organic, we protect our vines by spraying copper on the vines which can be washed off by rain (a contact product). This is only effective as a preventative treatment, and we are limited by the amount we can use per year. Conventional producers don't have this limit and use "systemic" copper treatments that enter into the plant/fruit itself – so it will not be washed off – and can also work as a curative, treating mildew once already present.
Thus, mildew on the Grenache (and Carignan – which we don't have) has been the story of the year throughout the southern Rhone. In some places we have lost 80% of the crop in others maybe 60%. The Syrah, Cinsault and Mourvedre were relatively unaffected. Though the Grenache Blanc in the valley was brutalised losing both fruit and leaf to the fungus.
A switch was flicked mid-June and we had summer temperatures, exceeding 40° for extended periods, from then on. Rainfall was limited to occasional storms and the growing season proceeded as normal just without fruit on the Grenache as the damage had already been done.
Harvest loomed with about a 10-day delay compared to the previous (hot, dry) year.
The damp flowering meant irregular fruit set and it was clear that there were big differences in the ripeness of the grapes even on the same vine let alone neighbouring vines or others in the same parcel. This further complicated the key decision of when to pick, as did warm temperatures up to harvest with morning dew triggering rot in some low lying or poorly ventilated areas of other vineyards.
So, what started out as a cold/wet year finished as a hot/dry year. In the tanks, extractions during fermentations and macerations, followed the pattern of the latter with plenty of colour and tannins coming quickly. Acid levels remained healthy for us – as usual – and quality levels look high.
The worst Grenache yields I heard of were 4hl/ha – we were not quite that bad but certainly in single figures (we would normally be 25 to 30hl/ha). Oddly, other places in Ventoux and the Southern Rhone had bumper crops, and with the Indian summer lasting into the first week in October, were harvested in perfect conditions. Some organic producers fared well, some conventional producers lost most of their crop. It was a difficult year to predict with all the climatic conditions being so localised.
With the perfect harvest conditions what little came in should be of good quality. As I have said for each of the past three years, now fingers crossed for a more productive next year.
JK 12.10.18