Season & Harvest Notes 2012  posted by James
The very cold and dry winter of 2011/12 –  including a two-week spell in February with night temperatures down to -14° C was enough to kill off weaker vines. The dryness was much feared as in the south we rely on the winter rain to keep the watertable topped-up.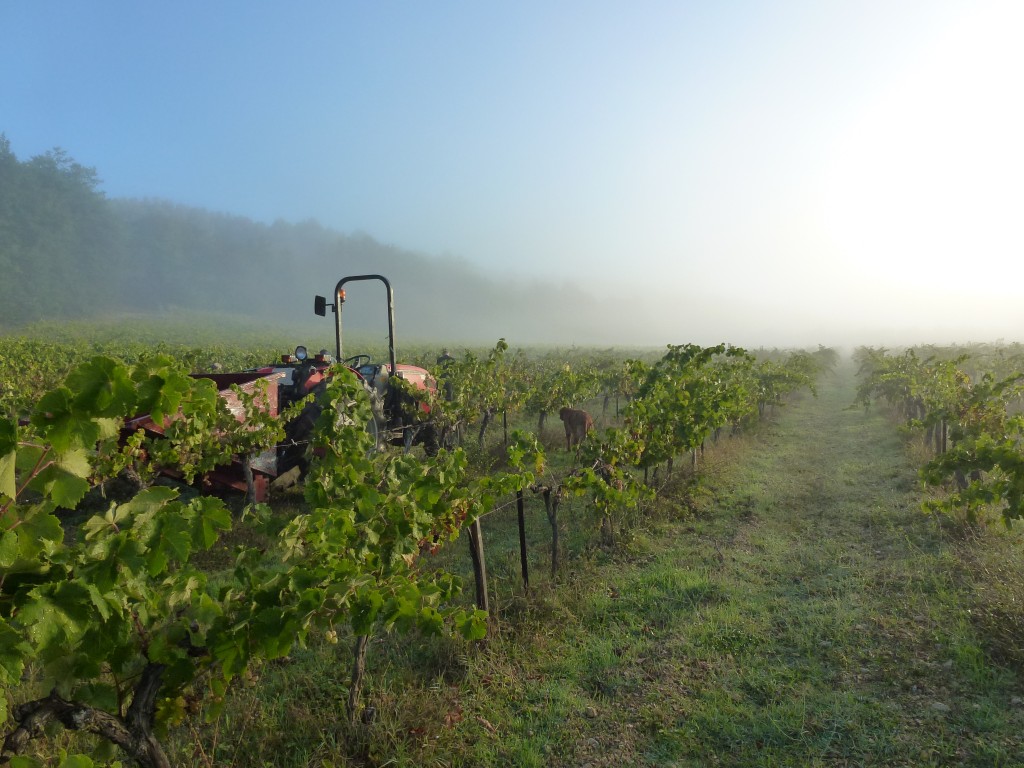 This cold theme continued into May with many of France's vineyards suffering from a frost in early that month. At Unang, being higher up (and so later), we were unaffected by this as the buds were not yet out. We were, however, hit by a very local frost on the 18th of May which hit our whites (the Grenache Blanc, in particular) down in the valley by the Nesque river.
The rain finally came in May, after the latter frost. Coming this late, with higher ambient temperatures,  meant that there was potential disease pressure and that our organic treatments had to be precise. Then three very dry months of June, July and August meant that the grapes ripened well and caught up on their slightly delayed start. Thus at the end of summer, they were in great health but with smaller grapes and so lower yields.
The heat of the second-half of August was followed by warm September days and cool nights (around 10°C), giving good temperature variation and deepening the taste profile of the grapes. The heat also brought the sugar levels up but we had to wait for the phenolic ripeness (bringing the mature tannins and deep colour).
A wet week in September (66mm at Unang, we were far off the 250mm! in other places in the Rhone Valley) made the grapes a little plumper, but the yield remained below the norm (down around 15-20%) and so the 2012s have plenty concentration.
As ever, we picked by-hand with our small team of locals, spreading the picking over three weeks, reflecting the different ripening speeds of our parcels as well as the late/early nature of our varieties. The harvest started on the 20th September, finishing on the 10th October.
In the winery, the 'jus' performed wonderfully predictably. The alcoholic fermentations proceeded smoothly and now we are waiting for the secondary, malolactic fermentations (which often only finish with the heat of spring). The young wines have a healthy level of acidity, and a freshness in the mouth, but with good colour, tannin and alcohol levels – underlining their ripeness at harvest.