You say what?!  Apparently this is the German word to describe the wonderful summer soiree that happened at Chateau Unang on the 18th July.  For those of you that don't speak fluent German or who are not familiar with the term – it has no direct translation but means when everything perfectly comes together aesthetically! (or so I was told by an enchanted german couple who were with us) Wine from Chateau Unang, Cheese from Fromagerie Mercy, and outstanding performing talent from Blue Raven – surrounded by the other worldly beauty and peacefulness of the Chateau and its vineyard.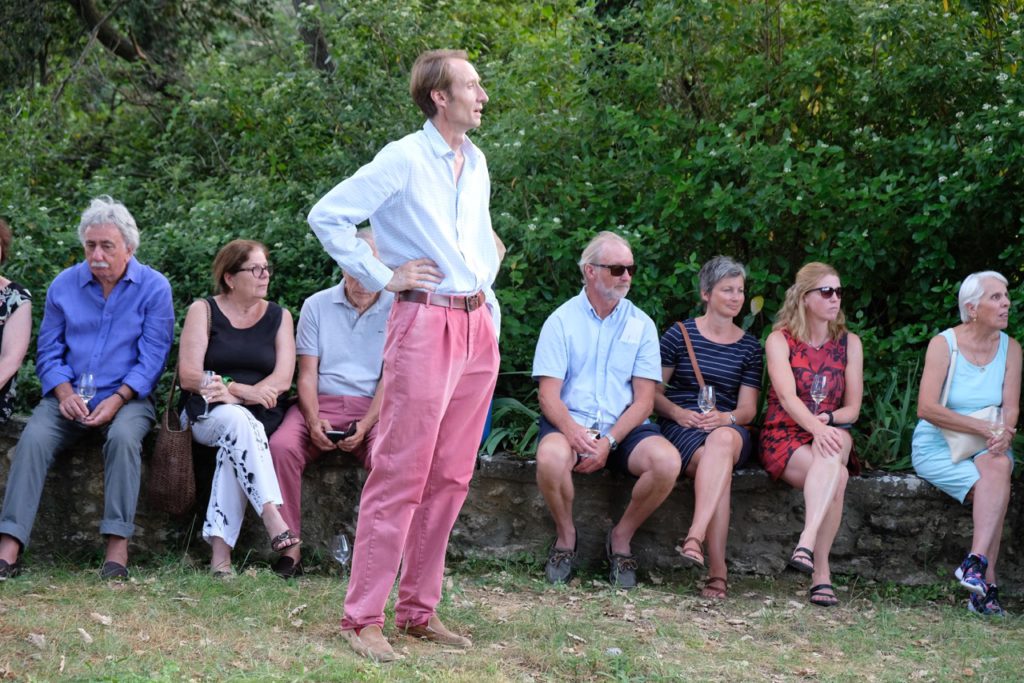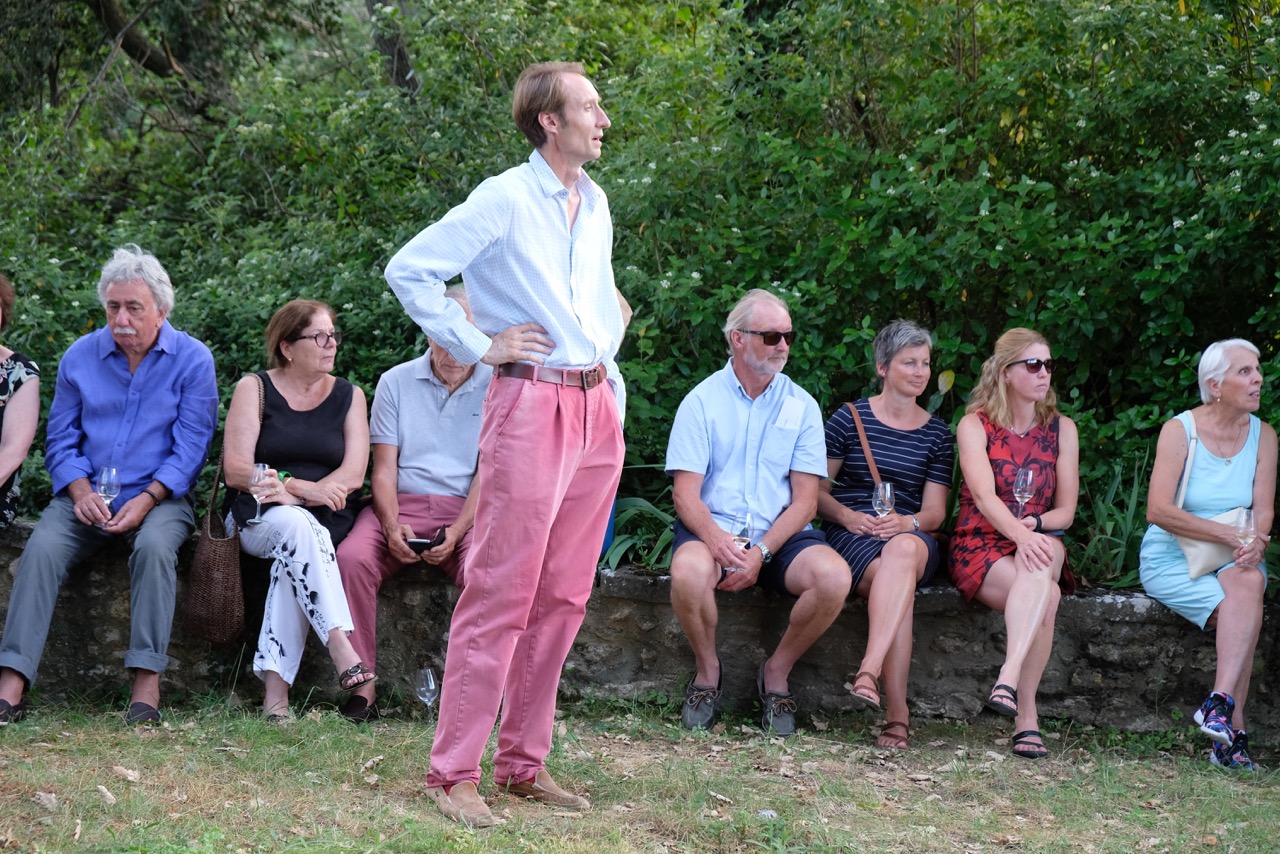 The sun shone, 80 people came and we had a magical evening.  We started at the cave with the Chateau Unang blanc 2017, Chevre au poivre de Timut and Clea Godsill and Rory Betts singing a spine tingling Bei Mannern Welche Liebe Fuhlen above the vats in the cave.
From here we ambled slowly to the 18th century bassin for the second white wine Chateau Unang Adeline 2017,  Laguiole cheese and a lyrical dance from Hannah Kemp, Yvette Levine and Giovanni Chavaz Madrid, with music from Clea, perched up high, on her violin.  We sat around the wall transfixed while they danced barefoot around and in the (chilly, wasp water fountain and tadpole filled) bassin.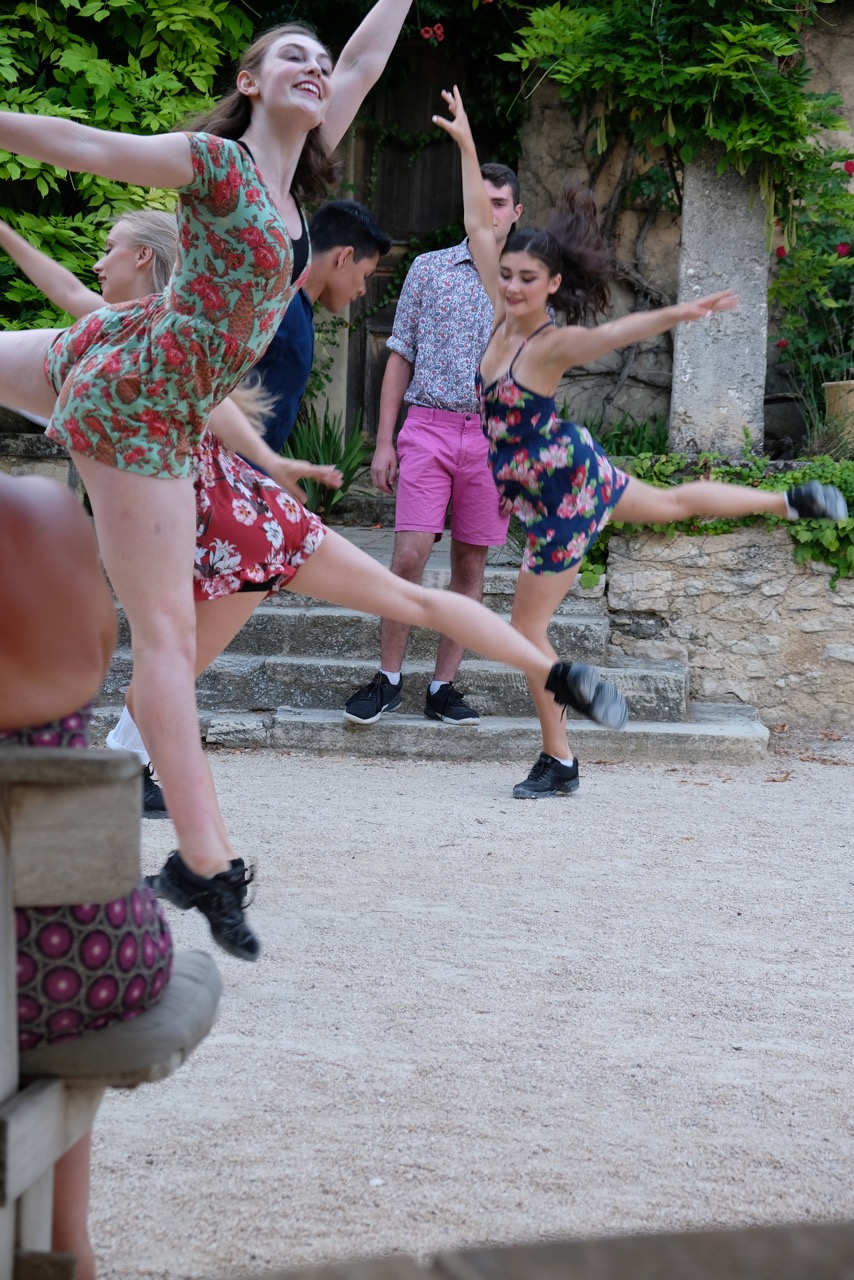 From here we wandered up to the courtyard of the Chateau to have Chateau Unang Rose 2017, the delicious lorenthym cheese and a romantic dance by Hannah, Clea, Yvette and Gio, with Rory singing Smile.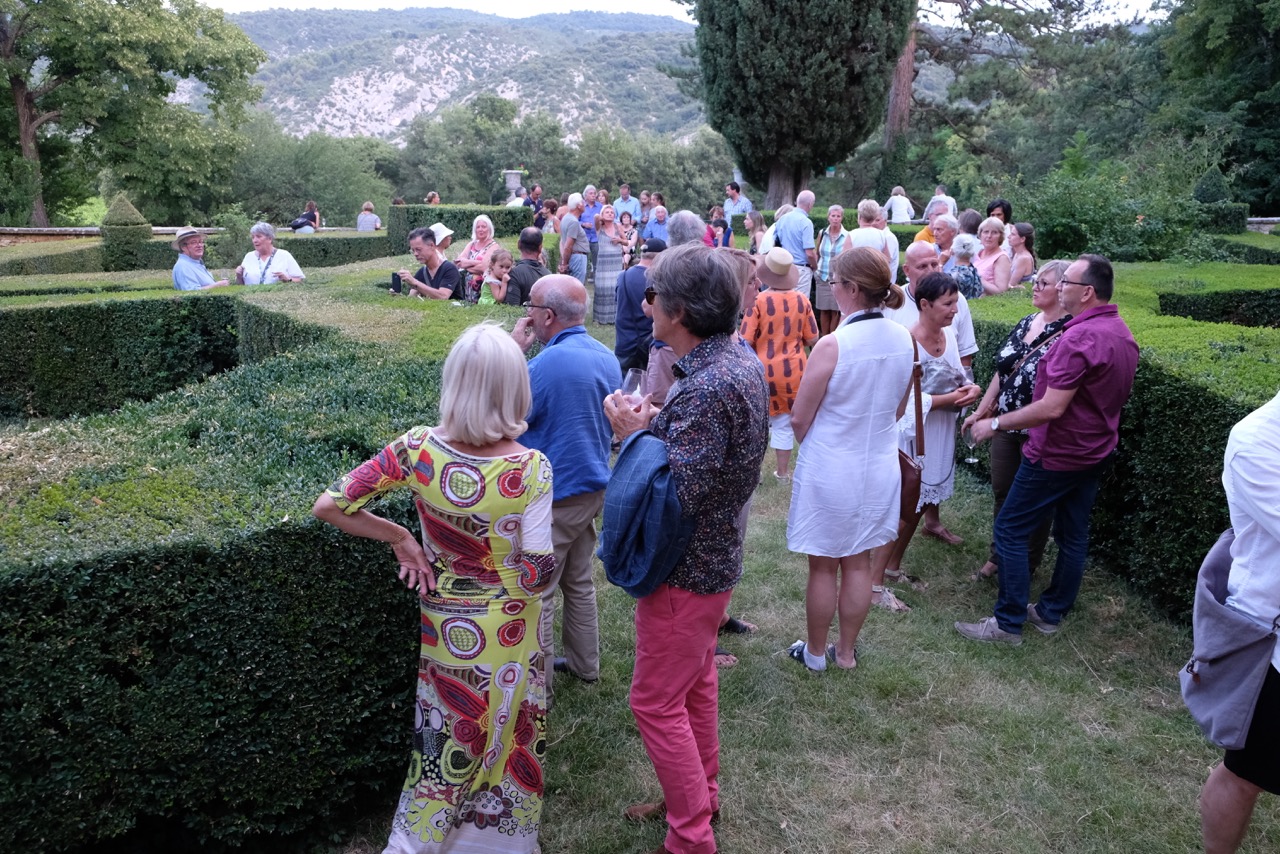 After this we moved under the arched original entrance to the chateau to the hedge terrace, proudly still sporting healthy box hedges despite the box caterpillars best efforts. Everyone was placed amongst the hedges to watch the three girls do a wonderful number old friends to Shake It Off between the lions on the terrace, while enjoying the Chateau Unang Rouge 2016 and perfect Tome de Bauge.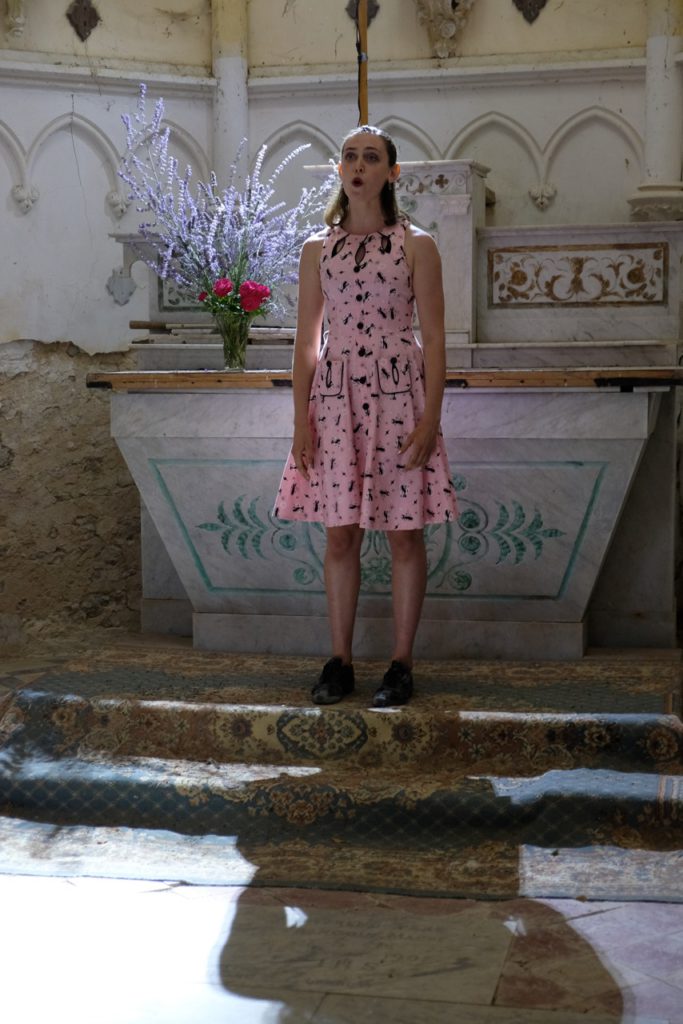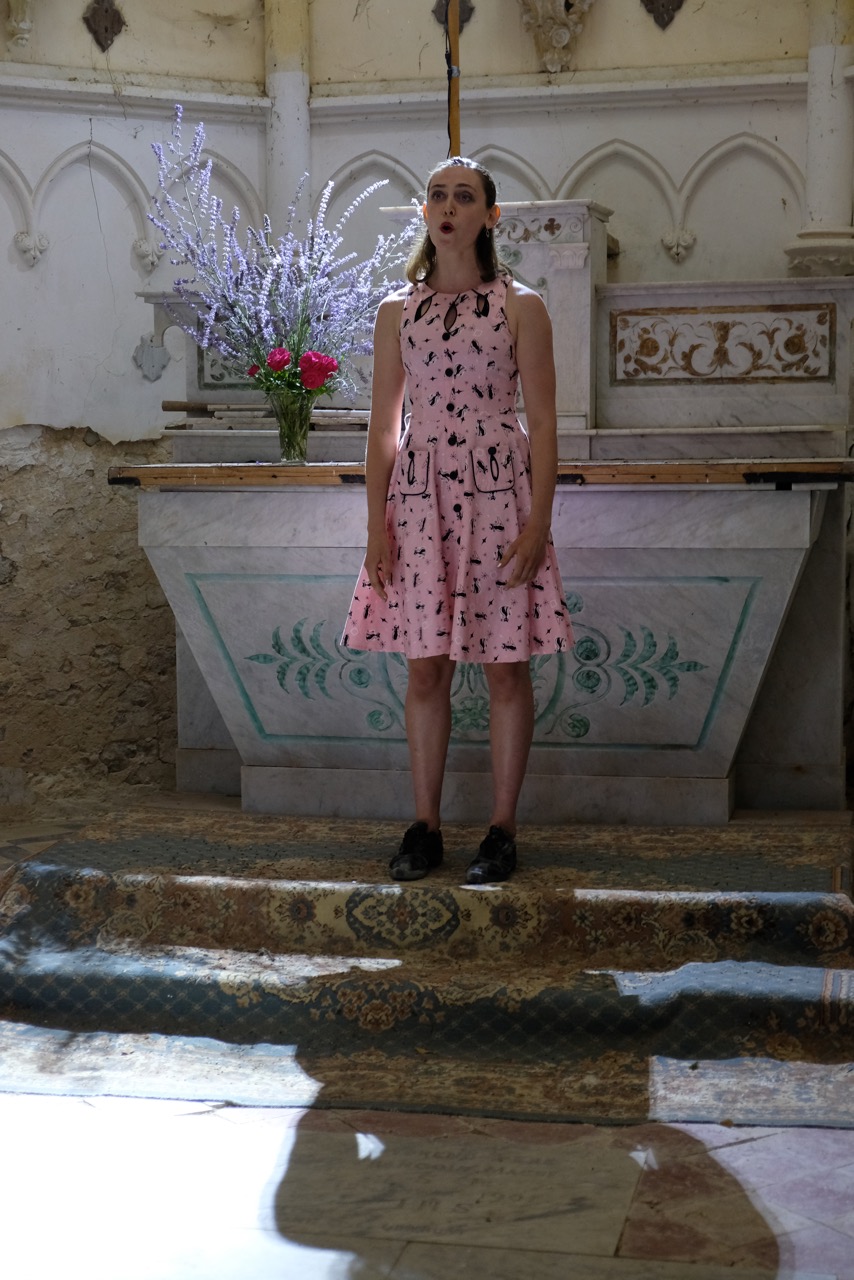 Having discovered Rory and Clea's singing talent we couldn't resist enjoying the accoustics in the chapel, while they sang respectively Old Man River and a folk song called The Turtle Dove while we enjoyed the Chateau Unang la Source 2015 the St Maure cheese, with fingers crossed that they didn't 'bring the house down' or at least decaying plaster from the chapel ceiling onto the guests' heads!
The evening ended with Chateau Unang la Croix 2015, mouth-water Ossau Iraty and a fabulous, hugely uplifting and energetic jazz number to Sing Sing with all 5 members of Blue Raven – we were all quite   A lucky guest was picked to win Chateau Unang Magnum, everyone else was given a very fine consolation prize of  Emma's delicious brownies and skipped their way back down to the cave and their cars confident that they had just experienced a little bit of Gesamtkunstwerk!