Wednesday was one of the most important days of the year for us.  The Assemblage.  The day when all the wine made from grapes picked last year are blended together to create our 2013 range of wines.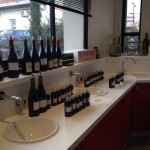 It can take many hours, and great concentration of brain and senses to create the best combinations that are in a similar style to the wines of the preceding year, yet expressing the nuances that mother nature delivered in 2013.  (2013 was a very strange year weatherwise so nuance is quite a polite term!)
We have samples of every vat and every barrel (about 60 samples or more), and wine samples of the previous years which all have to be tasted individually before the mixing can start.  Once this has been done and some slight grading noted, the fun begins.
The two whites, Chateau Unang Blanc with Clairette and Roussanne, and Cuve Adeline with a little oak, roussane and Clairette are first, followed by the rosé – very pleased with the delicate colour again this year – the colour of the heart of a strawberry to be precise!
The reds take longer, as although the majority of our grapes are grenache and syrah, every parcel, and barrel tastes different and can send the wine in a certain direction.  The Gardy 2012 is done first, as it is wine that has been in barrels for a year.  Only made in special years, and in very small quantities, this is a wine that few people know but rarely forget if they have a chance to try it.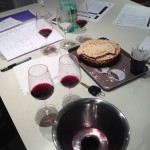 The Croix 2012 follows, leading with grenache from the top parcels on the domaine, and syrah from the montagne, a wine that makes you smile, with soft tanins. Then La Source 2012 which is dominated by the Unang Syrah which is a powerful grape on our terroir here, muscling in to make its presence felt, a fresh wine with tighter tanins, full of black currants, with a long eucalyptus finish.
The evening was finished with our classic red, which uses the grapes in front of the cave, full of cherries, toast and cinnamon, round and soft tanins.
We were delighted with the results, particularly as 2013 had proved quite a challenge for some vineyards, and two days later we saw James and Sam putting the white and rose together for real for our bottling at the end of the month.