A charming group of Scandinavian (and one British) journalists arrived here by bike from Chateau de Mazan, to taste the wine and have one of our picnics of delicious local produce by the shady 18th century stone pool.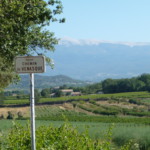 Having already had a pretty busy morning making natural face cream at Entrechaux, they had biked the gentle meandering route through the vines and cherries at a slightly faster speed to be on time, and were keener on water than wine when they arrived.
A few moments later and we decided to have the wine tasting combined with the picnic at the 'bassin'.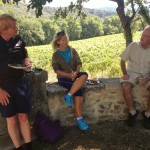 Amazingly a Norwegian, a Swede and a Dane can converse in their own languages and yet understand all that the others are saying…. not so their french, english and scottish picnicing companions!  Luckily they all spoke perfect english as well.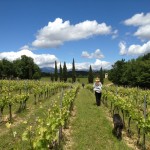 After having devoured the goats cheese, flassonade, fougasse and figs, amongst other goodies, they had sufficiently regained their energy to do the longer of the two vineyard walks which passes through parcels of grenache, syrah and cinsault as well as the cherry orchard, oak woods and finishes with a spectacular view of Mont Ventoux before returning to the cave and the downhill ride back to their elegant hotel.