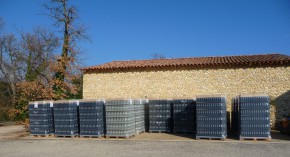 First day of bottling today,  rather a grey start but brightening up this afternoon.  Day one is White 2015, Adeline 2015 and Rosé 2015.
Frantic labelling going on immediately after the wine is bottled to send out the orders.  So a long production line from the cuve to pallet.  Quite chilly so we had lunch in the cave and drank 2013 La Source.
We have been working with the excellent Manu from Chateauneuf du Pape for quite a few years –Géo Service.
Here is our first go at a video – watch this space for more of the same! (Will perhaps fill the screen next time!