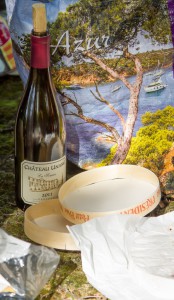 Grape Varieties:  Syrah, Grenache, Cinsault – yields of 30-35hl/hectare, hand picked
Tasting Notes : Intense aromas of blackcurrants and violets stem from this charming wine. The black fruit continues in the mouth together with an inkiness in this dark-coloured wine. The firm tannins give a bit of muscle to this elegant wine, which has a mineral edge. There's a long, menthol and eucalyptus, finish.
Terroir : The highest vineyards on the domaine, at just over 3oo metres, are reserved for the red wines. The syrah benefits from an outstanding hill-top exposure where the soil has a higher clay content – and is sometimes barely 20cm deep. Their southerly aspect, fanned by the Mistral wind, leads to ripe, clean fruit.
Wine-making : The grenache was initially fermented at cooler temperatures to harness the fruit. The syrah has a slightly longer fermentation and extraction (up to three weeks), to give more structure to support the fruit. This was followed by barrel ageing for a year.
Notes : Serve at room temperature. Ready to drink from 2013 and will improve for 5+ years. Works extremely well with roast duck served accompanied by beetroot.