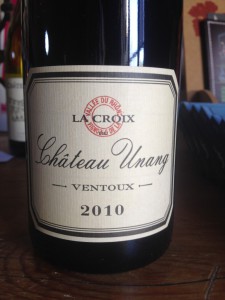 Grape Varieties :  Grenache, Syrah, Cinsault (with yields of 30hl/hectare, hand-picked).
 Tasting Notes :  This wine has an intense spicy nose. A deep ruby-coloured wine with cassis, even balsamic notes. The tannins are soft, but present, and support the black fruit presence underpinned by graphite and ink. There are also hints of cocoa and cedar. The 2010 underlines Unang's trademark freshness.  
 Terroir :  The highest terraces at Unang, at 300 metres, are reserved for La Croix.  Our thin, sandy soils are straight over the limestone at this height and the north/east aspect, fanned by the Mistral wind, leads to ripe, clean fruit. The cuvée always leads with grenache, ably supported by the dark, concentrated syrah.
 Wine-making :  The grenache and cinsault were cooled on entry to the cave to harness the fruit. The syrah has a slightly longer fermentation and extraction (up to three weeks), to give more structure to support the fruit. The blend is aged in demi-muids for 16 months.
 Notes : Serve at below room temperature. Ready to drink from 2013 and will improve for 5+ years from then. An elegant accompaniment to a leg of lamb.