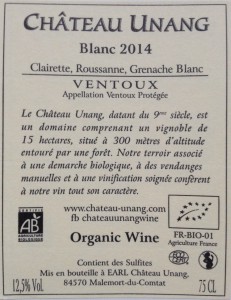 Grapes Varieties : Clairette, Roussanne, Grenache Blanc (with yields of 30hl/hectare, hand-picked). Organic.
Tasting Notes : A delicately coloured wine with subtle, straw colours with hints of broom, star anise and paprika on the nose. The fruit then takes over with white peach and pineapple prominent. As ever, there's a refreshing finish to this elegant and well- rounded wine.
Terroir : The white varieties at Unang are positioned in the valley floor, by the River Nesque, 220 metres above sea-level. This clay-limestone soil is in the shadow of the Plateau de Vaucluse and so is sheltered from the sun for part of the day. This reduced exposure to the sun gives these vineyards cooler temperatures and slower maturation, lending themselves to lively and expressive wines.
Wine-making : The grapes were left in contact with their skins before pressing, then fermented at cool temperatures (15-18ºC) in stainless-steel vats. The wine was bottled in February 2014.
Notes : Serve chilled, as an aperitif or with grilled fish or even shellfish. Ready to drink now and typically will be drunk within 2 or 3 years – though will evolve and last longer.